Course Screenshots
Please click on the image below, to view a sample of screenshots from our Equality & Diversity Awareness course - in partnership with
Daniel Wood Associates
.
[Press Esc to end]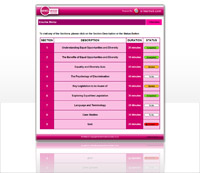 We are currently offering the opportunity for organisations to access 5 FREE user-licences worth £205*, free of charge. This will allow you to access the full version of our comprehensive Equality and Diversity Awareness package.
To apply for your free user-licences, simply click here to request your registration login details.
If your organisation offers Equality and Diversity Training for staff and you are looking for an effective, cost efficient, flexible and certificated way to deliver it, you should take advantage of our 5 FREE user-license offer* to see it for yourself.
To download a PDF leaflet containing full details of the 5 FREE user-licenses offer and costs click here.


Key Benefits of our Packages

Fully Certificated Learning - every individual completing the package to the required standard receives a personalised certificate of achievement.
Regularly Updated Content – our packages are regularly updated, for example, when new legislation comes into force, ensuring that all content is always fully up-to-date - at no extra cost.
Learner Progress Tracking – our packages come complete with a management tracking system enabling you to comprehensively track the progress of every individual undertaking a course.
Interactive Learning – all packages are fully interactive and suit a wide range of individual learning styles. They are easy to use for people with all levels of IT experience.
Cost Effectiveness – all packages offer excellent value for money when compared to arranging traditional face-to-face classroom training.


Further Information
We have produced E-Learning courses for a wide range of organisations, using a wide range of methods. For full details and to discuss your requirements please contact us.


* terms and conditions apply. Click here for details.